XION® products are powered with and protected by D3O's ground breaking impact protection technology. D3O is a pioneer in the development of shock absorbing 'smart materials'. They are exceptional in achieving the highest protection while retaining optimal flexibility.
PROTECTED BY D3O®
XION® was amongst the first to implement the patented D3O technology into body protective garments. This early partnership has contributed much in the creation of innovative undergarments, that is based on both science and field experience.
D3O's Impact Protection solutions are developed for markets where high impact energies are experienced. They offer enhanced shock absorbing properties that provide the ultimate in soft and flexible protection. Each material solution has it's own unique specifications.
HOW D3O® TECHNOLOGY WORKS
Nothing protects better than D3O®, which offers the thinnest and most advanced protection against impact.
D3O® realises materials using a combination of advanced polymer chemistry and cutting-edge design. With no compromise on comfort, the materials are soft and flexible. Compared to standard foames they react differently when force is applied.
D3O® absorbs and dissipates energy during an impact. This reduces the amount of force transmitted to your body and results in less damaging injuries in the areas protected. If there are any at all.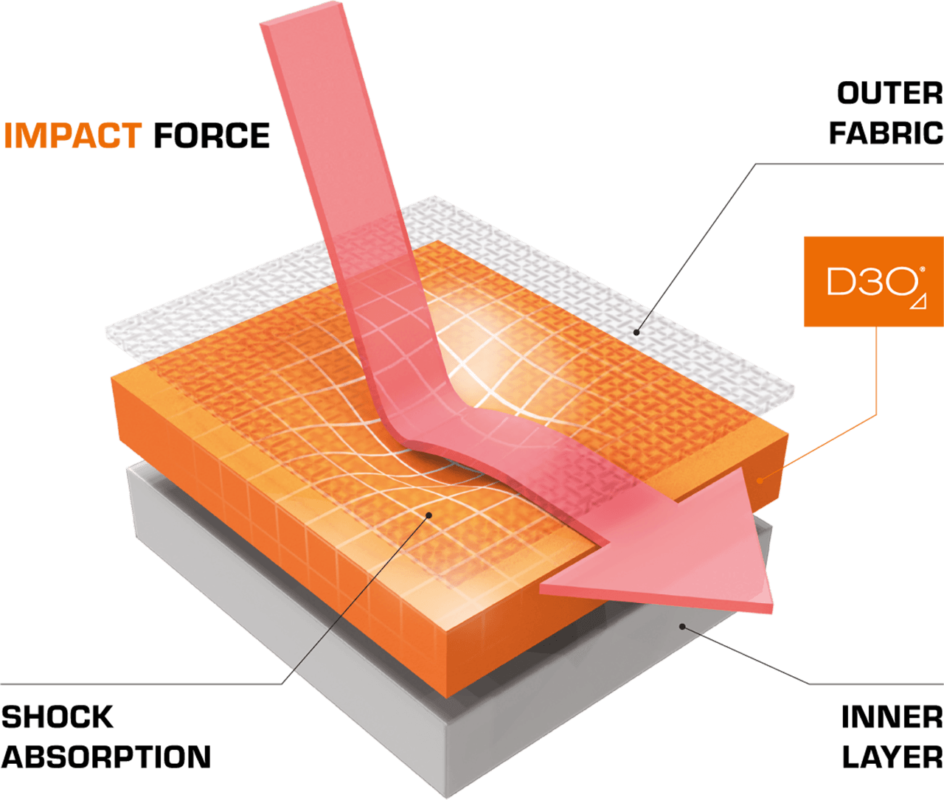 THE WONDER OF D3O® MOLECULES
D3O® technology is patented and has a unique molecular structure, allowing it to remain soft and flexible. That changes on impact: D3O's molecules lock together, absorbing the impact energy and dissipating it. This reduces the impact of the force transmitted.

D30® & CE CERTIFICATION – EN1621
The motorcycle icon on the D3O Pads indicate that they pass the EN1621 motorcycle standard. This CE certification is currently the highest standard for body impact protection for obvious reasons. For us it is a great addition to our products to be able to have this certification as users in the professional market see this as a key requirement.
Want to learn more about the EN 1621 standard and how these tests are conducted? Please visit the website of SATRA.